After Market Brake Pads For Trucks and Towing
Jason Lancaster | Feb 13, 2009 | Comments 10
Towing is a big part of why people buy trucks, and anyone that knows will tell you that powerful engines and powerful brakes are essential for good towing. While there are quite a few things you can do to add power to your truck – after-market air intakes, TRD superchargers, and after-market truck exhausts, we've decided to discuss what you can do to make your braking system better.
After a reviewing slotted and drilled rotors for trucks and discussing whether or not slotted or drilled rotors are good for towing, it's time to consider after-market brake pads available for trucks and designed for towing.
Heat is essential to choosing the correct brake pad. For example:
On a Formula 1 race car, you need brake pads that are designed to work best at high temperatures – from about 750′ F to 1200′ F.
On a mountain bike, you need pads that are designed to work best at low temperatures – from 60′ F to as much as 200′ F.
These temperature ranges are significant – brake pads designed for very high temperatures (such as those used in racing) won't function at all at lower temperatures. Low temperature brake pads (like on a mountain bike) will work great at low temperatures, but they're likely to disintegrate at high temperature. Therefore, the challenge when designing brake pads is to achieve good function at a wide range of temperatures.
The stock brake pads that are installed on your vehicle are an excellent compromise between cold performance, durability, and cost. However, they don't always hold up well under continuous heavy braking – especially while towing. As OEM brake pads start to heat up, brake performance is reduced. After-market brake pads use a variety of sophisticated and exotic materials to achieve tremendous results. They offer excellent performance (often braking better than stock) over a very wide range of temperatures. This engineering feet does come at a cost of course, but more on that later.
Here are some recommended after-market brake pads that will improve braking performance in all situations: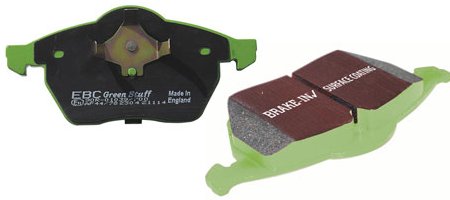 Green Stuff makes ceramic pads with an excellent reputation for quiet function and enhanced stopping power.
EBC Green Stuff Brake Pads. These ceramic pads make less brake dust, brake quieter, and stop significantly better than OEM pads even at high temperatures. The basic Green Stuff brake pads tend to hold up well under high temperatures while towing, but the ultimate towing brake pad might be EBC Green Supreme Brake Pads. The Green Supremes' are built with high temperature OEM brake systems in mind, and they do an excellent job of stopping any big vehicle.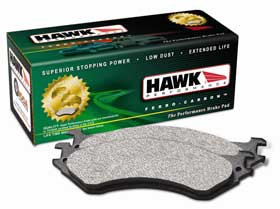 The Hawk LTS pads are fine for most applications – only the heaviest trucks and the heaviest towers should consider Hawk's HP Superduty pads.
Hawk LTS and HP Superduty Pads. Hawk pads are a carbon-ferro composite that offers similar performance to a ceramic pad. Just like the Green Stuff ceramics, you'll find that your truck stops significantly better, as well as stopping quieter and with less brake dust than your factory pads. The LTS pads are all most truck owners need, but if you've got a really big rig (1-ton or bigger) or if you're always towing a heavy load, then the high temperature HP Superduty Pads are perfect for you.
Of course, all this increased braking power and high-temperature function isn't free. Here are the downsides to buying after-market brake pads:
Cost. Aftermarket pads are 2 to 3 times more expensive up-front than a set of standard brake pads.
Wear. It's unfortunate, but just about every type of after-market brake pad wears faster than a set of OEM brake pads.
Break-in. After-market pads require a brake-in procedure to be most effective. If you don't follow the break-in process (known as "bedding"), you'll regret it. After-market pads that haven't been broken in properly don't last very long at all, and they can hurt your rotors too.
Bottom Line: If you've got a need for improved stopping ability, brake pads are the best way to go. After-market pads from EBC or Hawk will definitely improve brake performance, not to mention the fact they're more fade resistant while towing. The additional cost is probably worth the enhanced braking for heavy-duty users (or anyone looking to race). However, If you're looking for a way to upgrade your brake system without spending a lot of money on brake pads, consider an after-market set of slotted (or even better) drilled rotors. They'll boost heavy braking performance during towing (by helping to keep the brake system cool and reducing fade), and they're less expensive in the long run.
P.S. Don't forget that the front brakes do as much as 90% of the work when it comes to stopping your truck. If you're looking for ways to save, consider putting after-market pads on the front brakes only.
Filed Under: Maintenance Tips • Toyota Tundra Accessories
Comments (10)