5 Gifts Most Truck Owners Will Like and Why
Jason Lancaster | Nov 19, 2008 | Comments 0
In our effort to help our readers get ready for the holiday season, we decided to make a list of gifts every truck owner can appreciate. Since "appreciation" is a little different than hearing "AWESOME! I can't wait to put this on the truck!," we also included some notes about what type of truck owner would appreciate the gift and why.
1. Husky Liners. This one is sort of a no-brainer, especially now that we're about to officially enter the winter months. Husky Liners are big, thick, rubber floor mats that hold a lot of dirt, muck, and gunk and keep it from getting on your vehicle's carpet. They're pretty inexpensive too – pricing starts at $50 per set.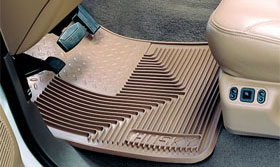 Who will like them: Type-A neat and tidy truck owners, anyone that works out of their truck for a living, and outdoor types.
What they'll like about them: They keep the truck clean, they hold lots of dirt and mud, and they say "Husky" on them. What more could you want?
Who won't like them: We don't know. We haven't every met anyone that didn't like them.
NOTE: There's another brand of super-heavy duty floor mats made by WeatherTech that are just a little bit more money, but they hold more gunk. You might want to get these for the really dirty truck owner.
2. Tie-Down Ratchet Straps. This is another simple gift that truck owners almost universally appreciate. They can hold plenty of weight (some hold more than 10,000 lbs per strap), and they ratchet down tighter than any bungy cord. Amazon.com has a good selection and free shipping on orders over $25 – check em out. Just make sure to buy a set with at least 1,000 lbs breaking strength (more is better).
Who will like them: Anyone who might haul something with their truck.
What they'll like about them: The fact that they can hold everything from a simple piece of furniture to a new motorcycle.
Who won't like them: Someone that already has a good cargo management solution…but they'll appreciate the thought for sure.
3. Cold Air Intake Kit. Cold air intake kits boost the amount of air coming into the engine. They increase horsepower AND they improve fuel economy. We've reviewed a few kits, and we recommend AFE's air intake kit overall. Still, Volant and K&N also make decent kits. See our blog post "Do Air Intakes Really Work?" for more information.
Who will like it: Anyone who likes to go fast. There's a good chance that most truck owners with a custom exhaust will like it too.
What they'll like about it: In addition to adding some performance (aka oompf) to their truck, a cold air intake kit will boost fuel economy 1 or 2 mpg. It's one of the few performance accessories you can add to a vehicle that will make it faster and more efficient.
Who won't like it: Anyone who wants their truck to be quiet. These kits add some noise (not a lot mind you, but enough that you'll notice the engine). For most truck owners, however, this isn't a major concern.
4. ShurTrax All-Weather Traction Aid. This is a cool feature for truck owners living in cold climates. Designed to replace sand bags (which can leak, slide around, and even cause injuries in the event of an accident), this heavy-duty rubber bladder is filled with water. Adding up to 400lbs of weight, this will help keep a truck's rear-end planted during icy weather. The best part – you can put your cargo right on top.
The ShurTrax traction aid is available from both AutoAnything.com and Amazon.com – you might want to check both sites for the best price.
Who will like it: Anyone living in an area where road ice is a major concern, especially 2wd truck owners.
What they'll like about it: It's easy to use – you just fill it up, tie it down, and forget about it. Since you can put payload right on top of it, there's no hassle like there is with sand bags.
Who won't like it: Warm weather truck owners – it's not for them.
5. K&N Air Filter. If the cold air intake we mentioned above is a little bit more than you wanted to spend, or if you're not sure about adding on so many parts, a K&N air filter is a good second choice. While some say it provides more power, we tested one and determined it improved fuel economy by 0.5 mpg. That means you'll save enough money on gas in 5-10k miles to cover the price of the filter. "It's the gift that keeps on givin' Clark."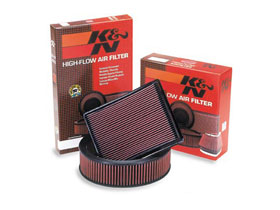 Who will like it: K&N air filters are universally liked – the only truck owner that won't like it is the truck owner that already has it.
What they'll like about them: The fuel savings is enough to make any truck owner happy, but the extra throttle response will definitely make the truck feel sportier.
Who won't like them: Truck owners with an after-market cold air intake kit won't have much use for one of these.
Filed Under: Toyota Tundra Accessories
Comments (0)