Toyota Delays 2012 Tundra Regular Cab – Is Regular Cab Going Away?
Jason Lancaster | Jul 18, 2011 | Comments 9
In a sign that Toyota may abandon the regular cab, Toyota has decided to delay production of the 2012 Tundra regular cab until December. In years past, sources at more than one automaker have commented to me that the regular cab really only makes sense as a fleet vehicle – consumers, as a general rule, are more interested in double cabs and crew cabs, which means that the regular cab is one of the least popular configurations.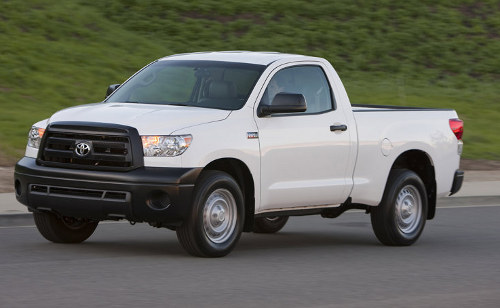 I also have it on high authority that Ford considered canceling the regular cab F-150 prior to the 2004 F-150 redesign, but relented because fleet buyers prefer that configuration. I have also been told – again by numerous sources at multiple automakers – that the cost of building a regular cab pickup is only slightly lower than the cost of building a double cab…which brings us back to the 2012 Tundra. It could be that, when the next generation Tundra debuts, a regular cab model is not available.
NOTE: To be clear, none of our sources has told me the Tundra regular cab is scheduled to be cancelled. However, they are suspicious that this is indeed a possibility.
Nissan, for example, does not offer a regular cab Titan – only a King Cab (same as an extended cab or double cab) and a Crew Cab. Jeep's most recent pickup truck concept, shown to Chrysler dealers last September, was an extended cab model. Scion's rumored pickup – known as the A-BAT (and which is also rumored to be the basis of a Prius pickup truck at some point) – is also shown in an extended cab version. Finally, Ram's unibody Dakota concept (rumored to debut in 2013) is also shown as an extended cab.
If you're not sensing a pattern here, you should be. The market is moving towards small pickups that all feature an extended cab, and a major competitor was so confident in the market for crew cabs and double cabs that they didn't even bother to build a regular cab.
Combined with the fact that Toyota has all but ceded the fleet market to Ford, GM, and Chrysler-Fiat, it's entirely possible that the 2014 Tundra will not be available in a regular cab version.
What do you think – would you miss it?
Filed Under: Tundra News
Comments (9)