2008 Toyota Tundra Reviews
Tim Esterdahl | Jul 13, 2012 | Comments 5
Thinking about buying a used 2008 Toyota Tundra? Here is a comprehensive listing of reviews on the truck.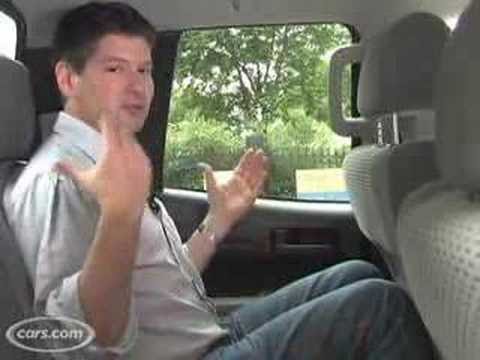 Edmunds.com
Edmunds says, "A top choice for a full-size pickup, the 2008 Toyota Tundra gets it right in terms of performance, work ability, road manners and available configurations and equipment."
Car and Driver
Car and Driver says, "This latest Tundra is a full-size pickup that requires no apologies or asterisks."
Motor Trend
Motor Trend says, ""Easy to drive — a lot of power on demand, excellent transmission, responsive brakes — and the side mirrors are huge, making it really easy to get a good view of what's going on behind the truck even when you can't use the rearview mirror.
"
It also won Motor Trend's Truck of the Year honors.
U.S. News
U.S. News says, "The Tundra's massive size, impressive interior space and optional 5.7-liter V8 engine secure its spot near the top of our full size pickup truck rankings. But Toyota must improve its cabin materials and offer a more inspiring exterior design to outpace its top competitors."
ReviewCars.com
Review Cars say, "Top 5 Pros of 2008 Toyota Tundra: 1. Toyota reliability for a big truck, 2. Powerful engine, 3.Quiet and comfortable ride, 4. Exterior styling, 5. Turning radius"
 Web2Carz
Web2Carz says, "With its full-size Toyota Tundra, Toyota has finally unleashed a no-holds-barred, light-duty truck that shows no deference to those from Chevy, Dodge or Ford. The Tundra doesn't just run with the big dogs. It is, plain and simple, one of the biggest."
Cars.com
Cars.com says, "The engine, thirsty as it may be, is superb and would be at home in any sports car. The same goes for the six-speed automatic transmission, which is very nicely matched to the V-8's power characteristics. The ride and handling is on par with any pickup, though weighing in at more than 5,700 pounds, there's no masking that heft on winding roads."
AutomobileMag.com
Automobile Mag says, "The Tundra isn't just bigger than its wimpy predecessor, it begs for notice. There's enough chrome in its grille to deplete global reserves of that metal. Ripped flanks shroud eighteen- or twenty-inch wheels shod with rubber that's ten or more inches wide. But in aiming for a Mack truck look, Toyota designers hit the homely bulldog target dead center.
The beauty instead is in the Tundra's breadth of offering. Thanks to a choice of three cabs, box lengths, wheelbases, engines, and trim levels, you can spec it out thirty-one different ways from Sunday. There's a tow package rated for 10,800 pounds and 381 hp to move it, thanks to the 32-valve, 5.7-liter V-8 and six-speed automatic."
TheCarConnection.com
The Car Connection says, "BOTTOM LINE: The 2008 Tundra takes on the Big Three, matches them in capability, and beats them in safety."
Kelley Blue Book
Kelley Blue Book says, "The Toyota Tundra, which debuted as an all-new (except for its name) 2007 model, matches or beats domestic full-size pickups in most size, performance and price measurements. For 2008, the Tundra lineup expands to include lower-priced variations of its four-door Double Cab and CrewMax models. Also, the mid-level SR5 and top-level Limited trims now come standard with several features that were previously optional. The U.S.-built Tundra features standard side airbags and electronic stability control and is the first full-sized pickup to earn the Insurance Institute for Highway Safety's Top Safety Pick award."
NADA Guides
NADA Guides says, "Coming off a complete redesign in 2007, the 2008 Toyota Tundra remains relatively unchanged this season – and that's a good thing, given the fact that it's one of the most desirable and functional full-size pick-up trucks on the market today."
For more information about the 2008 Toyota Tundra, check out our all known 2008 Toyota Tundra problems post.
Filed Under: Toyota Tundra Reviews and Comparisons
Comments (5)