2007-12 Toyota Tundra Front Brake Vibration – TSB
Tim Esterdahl | Sep 19, 2012 | Comments 11
Owners of Toyota Tundra trucks might have heard about the front brake vibration problem. It was originally a problem with first generation Tundras and mismatched brake calipers. Newer truck owners for years have assumed the issue didn't apply to them. However, if you have a Tundra manufactured between 2007 and 2012, a new Toyota Service Bulletin, TSB 0131-12, has been released regarding front brake vibration possibly occurring at high speeds.
If your truck was made during the above years and it is included in the list below then it's worth checking if the Bulletin applies to you.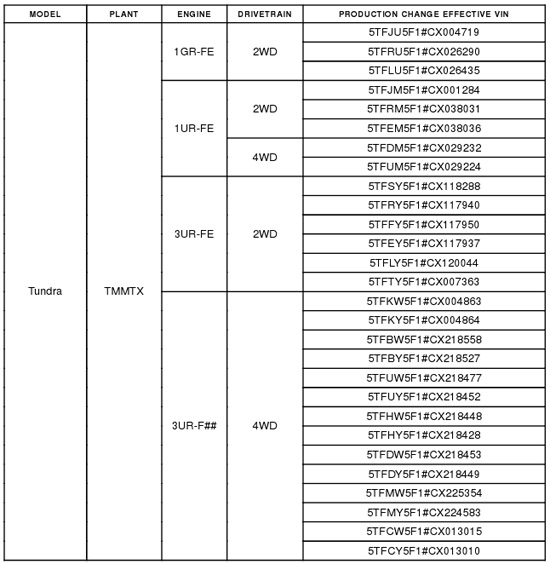 Here is what you need to know:
Check if your truck VIN matches the released Toyota bulletin.
Take your truck for a test drive and use the brakes at high speed when in a safe situation. Repeat multiple times to confirm the condition and the presence of vibration. The fluttering will be noticeable, a bit like a warped rotor.
If the fluttering is present, take the truck to a Toyota dealer or your designated truck mechanic for repair. The level of work necessary per the bulletin requires a full removal of the wheel, hub, and brake assembly to affect the repair.
If you choose to do the repair yourself, make sure you have a full understanding of Toyota truck brake repair. Brakes represent a fundamental safety feature in controlling your vehicle. If the job is done wrong, failure at the most critical time could result in serious injury or even death. If you're not sure about what you're doing, then let a certified mechanic handle the repair.
All licensed Toyota dealers will be aware of the TSB-0131-12 Service Bulletin and will stock the necessary parts for the related repair. Keep in mind that while non-Toyota repair shops can do the work described in the Bulletin as well, they may not have all the exact parts and tools available. As a result, they may rely on aftermarket parts and processes to perform the same repairs. This could result in a difference in part quality and repair.
Related Posts:
Filed Under: Tundra News
Comments (11)