Tundra vs Sierra-Silverado Part One: Mechanicals
Jason Lancaster | Feb 17, 2008 | Comments 62
Here's our official comparison of the Toyota Tundra to the Chevy Silverado aka GMC Sierra. For all you GMC fans out their, we know that the Chevy and GMC are technically different – different options and packages, different standard features, etc. However, where it counts (under the sheet metal), these trucks are the same. So we're going to roll them into one to save everyone some time.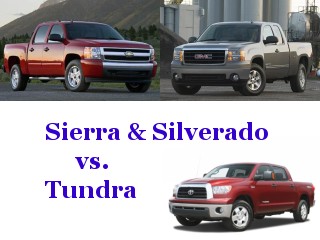 ENGINE:
General Motors has continued to amaze the auto industry by getting tremendous results out of push-rod engines. While many manufacturers currently offer single or dual overhead cam (SOHC or DOHC) motors with their trucks (Toyota, Ford, Nissan, Dodge), GM has stuck by the venerable overhead valve design to great success. All four of the GM engines available – a 4.3L V6, and 4.8L, 5.3L, and 6.0L V8's – offer excellent power and torque using this older, simpler technology. Kudos.
GM also offers an Active Fuel Management (aka cylinder deactivation) system on their 5.3 and 6.0 L V8's, as well as a failsafe cooling system. The 5.3L has a respectable 315 hp @ 5200 RPM and 338 lb-ft of torque @ 4400 RPM, and the 6.0L offers 367 hp @ 5500 RPM and 375 lb-ft of torque @ 4300 RPM. Finally, GM offers the classic 4.3L Vortec V6 in this truck as well. Since the V6 engines in these trucks are common in the work versions, they won't be discussed here.
Comparing the Tundra's 4.7L V8 to GM's 4.8L, the GM wins by a slim margin. The GM 4.8 offers more power – 295 hp vs. the Toyota 4.7L's 276, but slightly less torque (305 vs. 313). Driving the two, they seem pretty comparable power-wise – adequate, but nothing special. The GM 4.8L does get better gas mileage – 1-2 mpg on the highway – so it seems like a better choice. However, if we were looking at the GM, we'd definitely upgrade to the 5.3L – the fuel economy is better despite it's larger size.
Comparing the Toyota 5.7L V8 to the Chevy 5.3L is pretty straightforward – the Toyota 5.7L defeats the GM 5.3L in nearly every measurable way. The 5.3L's saving grace is the EPA rated fuel economy is pretty damn good – depending upon configuration, 15 mpg city and 20 mpg highway is possible. If you compare the Toyota 5.7L to the GM 6.0L (which seems a little more appropriate), Toyota still comes out ahead.
First of all, Toyota's 5.7L produces 14 more hp despite it's smaller size. The same can be said of torque – the Tundra's 5.7 makes 26 more lb-ft than the GM 6.0L, again, despite it's smaller size. While GM's 6.0 has more low-end torque than the Tundra's 5.7, it's hard to notice because GM matches up the 6.0L with an outdated 4 speed transmission – the Tundra's 6 speed multiplies torque much better simply because of the greater gear range. Perhaps if the GM trucks came with a better transmission, this comparison wouldn't be so one-sided. In any case, the Toyota 5.7L produces more power with less displacement, and the 2008 fuel economy ratings are nearly the same for both engines (13-14 mpg city, 17-18 mpg highway, depending on 2wd or 4wd).
WINNER: Toyota. The 5.7L has more power and feels substantially faster when compared to the GM 6.0L, with fuel economy being very similar. The 5.3L GM beats the 5.7L in terms of fuel economy, but the two aren't even close when it comes to power. If you're looking for a powerful truck (and a lot of people are), the Toyota is the way to go.
TRANSMISSION:
GM has really dropped the ball here – they just redesigned their half ton trucks in 2007, yet their transmissions are stuck in the past. Granted, Ford offers 4-speed autos in their trucks, but GM redesigned much more recently (Ford's 4-speed is from 2004). In fact, the GM's 4-speed automatic is probably the biggest mechanical handicap on the truck – the Tundra's 6 speed helps to make the Tundra much faster while still keeping it efficient. Not to mention the Tundra shifts smoother and more seamlessly. We can only imagine what the GM's would drive like if they had better transmissions…
WINNER: Toyota's 6 speed clearly outperforms the GM's 4 speed. Leave it to GM to stick with an old design regardless of what everyone else is doing.
BRAKES:
Amazingly, GM doesn't offer 4 wheel disc brakes as standard equipment. One must upgrade to the LS/SLE model to enjoy that feature. GM's brakes are also smaller – 13 inch front rotors vs. Toyota's 13.9. When you get rear discs on a GM truck, they're also 13 inches in diameter, smaller than Tundra's 13.6 inch rear rotors. Unsurprisingly, when Edmunds.com tested a 5600lb Tundra, it's 60-0 distance was 131′. A 5400 lb Silverado required 150′ to make the same stop, despite it's smaller weight. Clearly, the Tundra's brakes perform better. Having said that, it's difficult to notice the difference driving the trucks empty – they both stop pretty good.
WINNER: Toyota. GM – get with the program and offer disc brakes at all four corners as standard equipment already, would ya?
FRAME:
The frame is clearly one of GM's strengths – the truck is rated to haul more, and the frame is largely responsible for this. There's also the well documented "bed bounce" issue that some people are experiencing on their Tundras. When Toyota re-designs the Tundra, we hope they use a frame that's more comparable to the GM and Ford products.
WINNER: GM. Years of truck experience building trucks can definitely come in handy.
PAYLOAD:
Like we said, the GM trucks haul more than the Tundra, even in real world configurations, i.e. trucks that most people buy and drive. When you compare common configurations – like extended cab LS to double cab SR5, you'll find the GM hauls the same or a little more (200-400 lbs). GM definitely deserves recognition here. However, as we've said before (to much criticism), a lot of people that buy trucks don't need to haul much, and they don't need to do it very often. If you don't agree with us – and a lot of people don't – than the Tundra's tailgate assist and standard tie-downs deserve some recognition too.
WINNER: GM. Same or better payload ratings across the board.
TOWING:
Depending upon configuration, the GM truck with the 6.0L and the MAX trailer tow package will pull 10,500 in both the crew and extended cab. The Tundra will pull 10,100 (4×4) or 10,400 (2wd) in a crew, and 10,300 (4×4) or 10,600 (2wd) in a double cab. They're pretty close, but we can't say for sure how they'll feel at max load. To be brutally honest, we don't like the idea of towing this much with a half-ton in the first place. But, if you've got to do it, both trucks will handle it.
WINNER: It's a tie, but ties always go to the older design. GM wins.
Next up for our comparison, Tundra vs Sierra-Silverado Part Two: Features and Pricing.
Filed Under: Toyota Tundra Reviews and Comparisons
Comments (62)