Tundra Tailgate Problems: Toyota Internal Memo
Jason Lancaster | Nov 12, 2007 | Comments 28
We're not sure if this is will be old news to some of you, but Toyota released a memo to their dealers regarding problems with Toyota Tundra tailgates in the last week or so. We finally got our hands on it, and you can read the memo for yourself by clicking on the image below.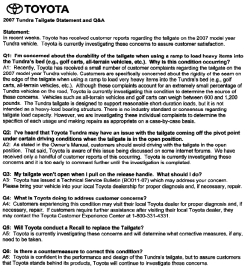 Click image to see full-size memo. Make sure to hover over full-size image when it opens – your browser may shrink it.
The memo speaks for itself, but we thought the phrase "there is no industry standard or consensus regarding tailgate load capacity" was especially interesting. The way we read that sentence, it sounds like Toyota is saying "we can make this truck any way we want to." Hardly seems like an appropriate response, especially considering the truck is advertised as being the toughest thing on the road.
Here's an idea: Make the tailgate strong enough so that the welds don't split when someone loads an atv in the back.
As for the Tundra's tailgate popping off it's hinge if you drive with it "down" position, Toyota's official response is that the manual states you shouldn't drive with the tailgate down unless it's secured in that position by the load or a bed extender. Too bad that Toyota's stance ignores the fact they've advertised using the truck with the tailgate down: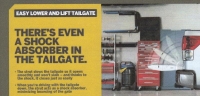 Click on the picture to see the full-size image. Look at the sentence towards the bottom to see where Toyota advocates driving with the tailgate down. Thanks again to Glenn for bringing this issue to light.
As far as recalling or replacing tailgates, Toyota says they'll investigate. Translation — if you make a big enough stink about it, you might get some consideration. If you want to know the best way to create a stink, checkout our Toyota Customer Service Tips post.
Filed Under: Tundra News • Tundra Recalls
Comments (28)