A Tundra Police Truck? Check Out Stokes Brown Toyota's "Public Safety" Tundra
Jason Lancaster | Mar 02, 2012 | Comments 3
Imagine, if you will, speeding down a dark two-lane road in the middle of the night somewhere near Hilton Head, South Carolina. Suddenly, cherries light up from the shoulder and a police vehicle pulls out in pursuit of your Tundra. As soon as the initial shock of being busted wears off, you realize that the red and blue flashing lights in your rearview are a whole lot taller than they should be – in fact, they sit at exactly the same height as your own roofline.
How is this possible? The answer is that you've been pulled over by a Tundra Police Truck – a.k.a. the Stokes Brown Toyota Tundra Public Safety Truck. Stokes Brown Toyota is one of the newest Toyota dealerships on the block, having been in business since 2007, and as such the management team has been more than willing to embrace new ideas for attracting the attention of the public to their establishment. One such strategy has been the creation of the eye-catching Toyota Tundra Public Safety Truck, an undercover law enforcement vehicle that catches more than just criminals by surprise.
An LED Overdose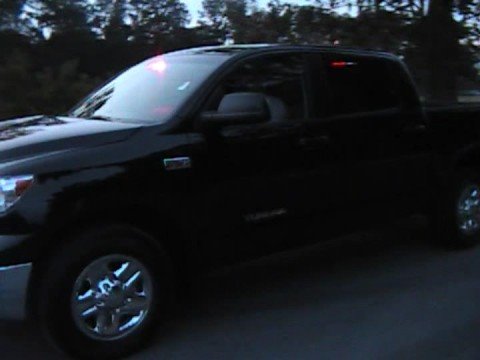 Also known as the Tundra Police Truck, the full-size pickup was put together in partnership with Whelen, a company long associated with producing emergency and auxiliary lighting systems for a wide range of applications – including law enforcement. Whelen's contributions to the Public Safety Truck consisted of strobes in the front headlights, flashing red and blue LED bars mounted behind the windshield and the rear glass, and special TIR3 LEDs flashing in the grille. The 2008 Toyota Tundra that was selected for conversion to Safety Truck spec did not come with fog lights from the factory, which allowed the Stokes Brown team to install standard police-issue blue and red fog light strobes in that location.
Cop Engine, Cop Shocks? Not Quite…
In addition to its aggressive lighting package the Tundra Police Truck is also equipped with a mobile radio communications system, a siren, and Toyota's top-of-the-line 5.7-liter V-8 engine producing 383 horsepower and 401 lb-ft of torque. Matched with a six-speed automatic transmission, this lets the full-size pickup sprint to 60-mph in well under seven seconds, an important characteristic for a vehicle charged with hunting down ne'er-do-wells. The pickup is also a CrewMax model, which means there is plenty of room for transporting perps should the need arise.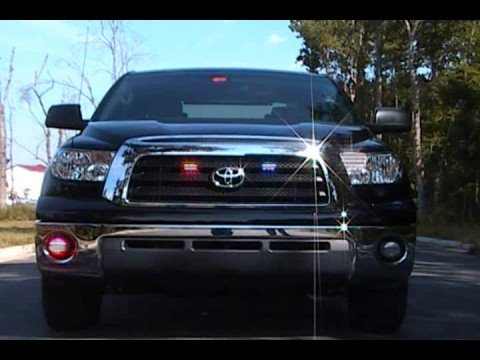 It's uncertain how many examples of the Stokes Brown Toyota Tundra Public Safety truck were actually ordered by local law enforcement agencies, but there's no doubt that the cargo capacity, go-anywhere suspension and rugged build of the Tundra makes it an effective and versatile police vehicle in any number of situations.
Related Posts
Filed Under: Featured Vehicles
Comments (3)