Truck Camping – Napier Truck Bed Tent
Jason Lancaster | Apr 22, 2009 | Comments 9
Camping is fun, but it sure can be complicated. Think about all the work that goes into setting up a tent. You've got to find a safe and dry spot, assemble the tent so that it at least resembles something that's fit for human occupation, then you've got to secure the tent to the ground so that it doesn't blow away. By the time you've got everything figured out, it's usually bed time (or later). While lying on the cold and lumpy ground in a less-than-perfect tent setup, many a man has gazed out the tent flap longingly at the warm and inviting cabin of his pickup truck, wishing there was some way he could squeeze inside.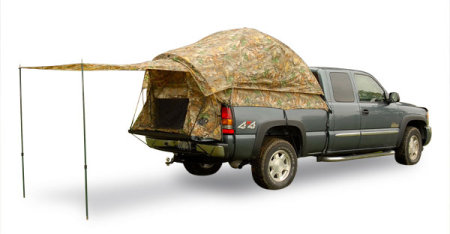 The Napier Sports Truck Tent III is a top-quality tent that's easy to assemble and incredibly mobile. It's also available in camouflage, making it a nice truck camping tent for hunting season.
While it might not be practical to sleep everyone in your truck's passenger compartment, it is definitely possible to take advantage of the level and safe space provided in your pickup's cargo bed. The Napier Sportz Truck Tent is an easy to use alternative to the standard tent. It allows you to camp high off the ground, increasing your chances of staying dry and critter-free. Perhaps more importantly, the truck tent also allows you to camp anywhere you can park your truck – no more scouting around for the ideal camping location.
The truck tent III has all the standard features you'd expect in a quality tent – ripstop waterproof nylon fabric, fiberglass poles wrapped in carbon fiber, a waterproof sewn-in floor, etc. It's top quality. It works in just about any pickup bed too. We also like the addition of an awning that extends out past the tailgate. Things like your stove, folding chairs, coolers, and Complete Boz Scaggs CD collection (Family Guy reference) can stay dry without having to crowd the sleeping area of your tent.
When many people think about truck tents, the first thing that comes to mind is that it must be at least twice as complicated to assemble as a standard tent. Thankfully, the designers at Napier Sportz have gone out of their way to make sure that their Truck Tent series offers a logical assembly process. Keep in mind that the first time you set up your Truck Tent you should budget at least an hour in order to avoid rushing and breaking and/or forcing something (a second set of hands wouldn't hurt either). After putting together your Napier truck tent for the first time, you should be familiar enough to put this bad boy up in about 15 minutes on your next outing.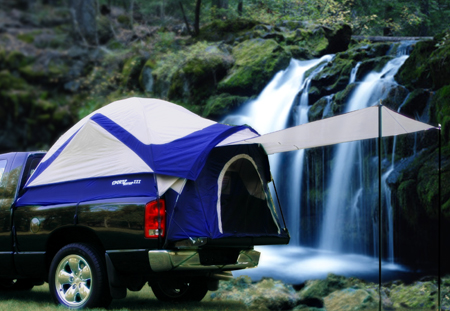 Check out this blatantly obvious photo-shopped Napier Sportz marketing photo. The idea, of course, is that with their truck tents you can camp anywhere you can drive. Too bad this waterfall looks like it's in a rain forest. At least they're trying, right?
Of course, there are a few drawbacks to using a truck tent.
– The big disadvantage – once it's been installed, you really can't move your truck without tearing down the tent.
– A lot of people will also find the solid steel of the cargo bed uncomfortable, so you're going to want to get an air mattress for the truck bed if you opt for this tent.
– We wish that Napier would have found a way to allow people to reach inside their truck using the camper window in the rear, but it's not possible. Napier did however include a sleeve in the tent wall that can be used to run power cords from the cab to the inside of the tent, so at least you can power up your portable DVD player from the cigarette lighter. Still, that sleeve is pretty small.
By and large, however, the convenience and the safety offered by the Truck Tent III outweigh the negative aspects of camping in your pickup. The cost isn't bad either – $200-$230, depending on what color you want. If you're looking for a tent that makes camping easier (or if you're trying to construct your very own mobile command center), the Napier Truck Tent III is a good choice.
Related Posts:
Do you own this product? Why not review the Napier Truck Tent?
Filed Under: Toyota Tundra Accessories
Comments (9)