Toyota Tundra Owners: 7 Gift Ideas
Jason Lancaster | Nov 23, 2007 | Comments 0
In honor of "black Friday", we decided to come up with a list of a few items that every Tundra owner might want to have. For best results, print out this list or leave it up on your computer when your significant other walks by. Then, in a loud and clear voice, state "Wow. Sure would be nice to get one of these things as a gift."
Repeat as necessary.
You might also try — "Wow. FREE SHIPPING?! What a deal!!" then make sure they see this ad.
Good. Now that we've got that out of the way, here's our list:
1) Weathertech Extreme-Duty Floor Liner: Winter often makes for a dirty truck, but having a nice set of floor mats that actually collect dirt and moisture will keep the dirt to a minimum. Made thick with a specially ridged underside, WeatherTech Floor Mats provide an impenetrable barrier that's designed to stay put. WeatherTech's soft rubber treads offer excellent traction for driving, and the tall outside edge of mats keeps dirt from sliding/sloshing out onto your carpet. They're easy to clean – just hose 'em off – and they come in 3 universal colors. $114.95 for the front, $81.95 for the back, and free shipping.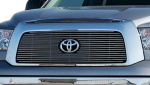 2) Bolt-over Billet Grill: Easy to install (they literally bolt over the factory grill), Carriage Works billet grill covers look great and don't cost very much. We found a brushed billet grill (pictured) on AutoAnything.com for only $132. You can buy the whole set and have billet for the main grill, top grill (the little sliver above the main grill), and the bumper grills too. If you don't like the idea of bolting over the factory grill, you can buy a replacement grill for about the same price.
3) K&N Drop-In Air Filter: It's the least expensive item on the list, but it's still a great item to have. K&N filters improve gas mileage, performance, and come with a lifetime warranty. Prices range from $38 – $47, depending on engine size.
4) ShurTrax Traction Weight System: For a lot of truck owners, winter means putting sand bags in your truck's bed. When winter's over, you've got to store them for next year, assuming they haven't worn out. ShurTrax came up with a new solution – put a big heavy bag of water in the bed. It will add as much as 400lbs of weight to your truck's bed, boosting traction. When winter's over, dump the water out and roll up the bag. It's a slick idea, and it costs $140 for a full-size truck. Also at AutoAnything.com.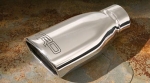 5) TRD Exhaust Tip: From the Toyota Accessory Guide "Enhance the look of your vehicle with this double-walled exhaust tip by Valor Manufacturing. Made from polished 304 stainless steel, which will not rust or corrode." That pretty much sums it up. The part is listed at $60, but you should be able to get a little bit of a break (try asking for $50). Install is quick and easy. Toyota part # PTS18-34070 for the 5.7L.
6) TundraHeadquarters Gear: OK OK — it's shameless self-promotion — however, if you enjoy this site, why not buy a coffee mug, hat, or t-shirt? Visit the TundraHeadquarters.com store.
7) Volant Cold Air Intake: If you read our Toyota Tundra Volant air intake review, you know we liked this kit. It makes the Tundra sound mean, look mean (at least under the hood), and it might even improve your gas mileage (if you keep your foot out of it). $369.
Filed Under: Toyota Tundra Accessories
Comments (0)