Toyota Tundra Leveling Kit and Front End Lift Information
Jason Lancaster | May 09, 2007 | Comments 315
One of the nicest and least expensive upgrades you can make to your Toyota Tundra is to add a leveling kit (also known as a front-end lift kit). Leveling kits are usually steel or aluminum spacers that are added to the top of the front suspension's coil assembly. These spacers raise the front end of the truck to make it level with the rear without dramatically changing the vehicle's suspension, ride, or handling. When installed correctly, a leveling kit will improve the look of your truck without altering the operation and "feel" of your truck.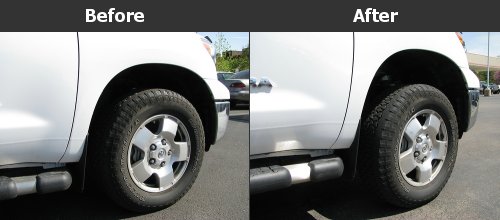 Leveling kits compensate for the fact that the rear-end of most trucks is about 2″ higher than than front end. This is intentional – the rear end is higher because it's designed to compensate for natural suspension sag when the vehicle is fully loaded. Since most of us drive our trucks when they aren't loaded up to max payload, we don't usually enjoy the benefit to having the rear-end raised up higher than the front.
While adding spacers to the front suspension levels out the truck while empty, one of the main benefits is the additional tire clearance we gain. Leveling kits range from 1.5″ to 3," which means that – on Tundras at least – we can upgrade our tire size to a 33″ overall diameter, about an inch bigger than stock overall tire diameter on a 2007+ Tundra. Best of all, because a leveling kit is nothing more than spacers, neither the ride of the stock Tundra nor the handling are significantly effected.
The only downside to adding a leveling kit – aside from the cost – is a slightly higher step-in height. There's also the possibility of premature tire wear, but that's only if the kit is installed poorly or incorrectly. Contrary to what some dealers will tell you, adding a leveling kit won't affect your factory warranty as long as it is properly installed. This, combined with some more reasons given below, is a good reason to have your kit installed by a mechanic.
Leveling Kit Options
A typical leveling-kit will include strut spacers, drop differential spacers, and some new hardware. Generally speaking, a good quality kit with a lifetime warranty will cost anywhere from $250 to $350. As far as materials go, we like leveling kits with metallic components over kits made from polyurethane. Poly kits usually require re-tightening within a few thousand miles, and there are more than a few examples of polyurethane kits failing (check out the photos below).
At first blush, urethane/polyurethane spacers seem like a reasonable low-cost alternative to machined aluminum or powder-coated steel. However, significant wear and tear can cause major distortion problems, necessitating kit replacement (and likely front tire replacement as well).
When shopping for a leveling kit, we suggest you read through the installation instructions before you buy so you understand exactly how the kit works and what steps are needed to install it. We've found that the least expensive kits usually require the most labor, so be sure to weigh the minor cost sayings up-front against the extra time under your truck.
Finally, here's a list of leveling kits and front-end lift kits that we've reviewed:
Leveling / Lift Kit Installation
When considering installation, most leveling kit instructions suggest that home installation takes 2 to 4 hours with simple hand tools. However, that's simply no true for most people. While almost everyone who is "handy" has the basic tools needed for installation, many popular kits require a strut compressor and a pair of hydraulic jacks to complete install. Since most home mechanics we know don't have a strut compressor (or more than one hydraulic jack), it's important to consider professional install.
After all, even if you have all of the necessary tools and can put the parts on at home, you'll still need to take your truck to the shop to get a new front-end alignment ASAP. There are also some challenges associated with making the new parts "fit," and it's recommended that you grab a buddy to help out during installation.
In other words, considering the need to renting some extra tools, the time and trouble involved, the fact that this job is much easier with 2 people, and that you'll need a mechanic to align the front-end anyways, we would suggest having your leveling kit installed by a professional mechanic. We've found that most shops will charge $150-$300 in labor (2-4 hours) to complete install.
Choosing An Installer
If you decide to have a mechanic install your leveling kit, here are some tips:
Make sure that the shop has a modern alignment rack
Make sure that the shop has some sort of labor guarantee on both the alignment and the kit installation.
If you're adding a larger set of wheels and tires to your truck, you might want to have your mechanic check the bump stops for tire rub after the leveling kit is installed.
Finally, make sure you keep the stock parts in case there's a problem with the kit.
More Resources:
Search terms people used to find this page:
https://tundraheadquarters com/toyota-tundra-leveling-kit-and-front-end-lift-information/
benifits of levelimg tundra
2018 tundra leveling kit affecting tss
what size leveling kit is on my tundra
toyota tundra leveling kit reviews
05 tundra leveling kit
Filed Under: Toyota Tundra Accessories • Tundra Lift Kits
Comments (315)