Toyota Continues to Tease Diesel Tundra Enthusiasts
Jason Lancaster | Dec 24, 2008 | Comments 15
Update: Read the complete story of the diesel Tundra
Here's what our sources at Toyota have told us the last couple of years…
"Toyota's going to build a couple of diesel Tundra's, and one of them will be a real live heavy-duty monster. Count on it – 3 years after launch tops."
"No – wait – we're not going to build a HD diesel right now, only the light-duty diesel. The big diesel and the HD Tundra will be delayed until this whole truck market bounces back."
"Uh, we decided to go ahead and back off the light-duty diesel too. We're not sure that with fuel prices being the way they are that blah, blah, blah."
In case you were wondering, this is an editorialized version of Toyota's steady backslide on their commitment to build a diesel version of the Tundra. While Toyota is certainly entitled to change their mind about building a diesel Tundra (despite promises made to Toyota dealers to the contrary), what doesn't make sense – what irritates the hell out of us, actually – is that Toyota continues to trot out the one-of-a-kind Tundra Diesel Dually that premiered at SEMA last year.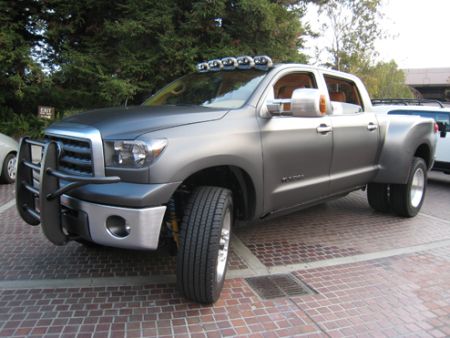 Visit Jalopnik.com to see their comments on this truck.
What's the deal Toyota? You haven't stomped on our hopes enough? Why keep showing us a truck you're not going to build for at least another 5 years (if ever)?
The cynical answer: Toyota wants to keep the concept of a Diesel HD Tundra alive. They realize that some people will delay purchasing a diesel from one of their competitors based on the implication the SEMA Dually might actually exist someday. Sinister.
The logical answer: Toyota has stopped investing in the Tundra for the short term. They don't have any concepts to show off aside from a supercharged regular cab race truck (big deal – we built one of those) and a "TRD off-road DoubleCab."
Either way, shame on you Toyota. The truck market isn't going to go away, and there's plenty of reason to believe you can challenge Ford, GM, and Chrysler for leadership. Get to it!
Filed Under: Diesel Tundra
Comments (15)