TCI Universal Illuminated Burnout Kit
Benjamin | Dec 15, 2010 | Comments 1
V8-powered pickup trucks are the perfect burnout machines thanks to the combination of a light rear matched with gobs of low-end torque. Almost everyone has at one time or another at least spun the tires on their truck, and some take things even further by staging full-on brake-assisted burnouts, whether in a high school parking lot, at the drag strip just before a run or in front of their own house in a fit of adolescent nostalgia.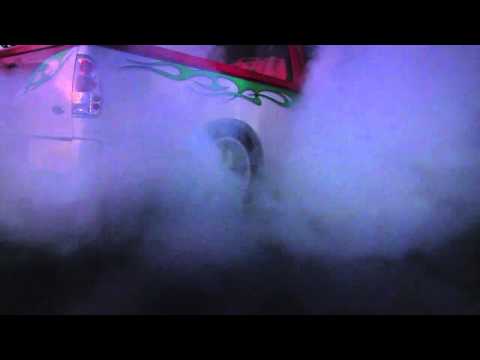 TCI has come up with perhaps the ultimate burnout accessory, suitable for installation in any rear-wheel drive automobile – including pickup trucks. As though burnouts didn't already attract enough attention…especially from local law enforcement, the TCI Universal Illuminated Burnout Kit throws down the "look at me" gauntlet by providing pulsing blue LED lights that are designed to blaze through the smoke generated by your incinerated tires.
Yes, that's right – the TCI Universal kit is essentially a Pink Floyd light show for your rubber-smoking hooligan antics. Not only does the kit come with bright blue LED lights, but it also features the TCI RollStop device, which is a solenoid valve that locks up the front brakes indefinitely while avoiding overheating your braking system. This lets you keep your truck in place while reducing your rear wheels to smoldering rubber carcasses.
A microswitch that comes with the kit makes it easy to turn RollStop on and off, which is activated as soon as the brake pedal is depressed. You can then take your foot off the brake, hit the gas and watch the show begin in your rearview mirror. TCI, which is more known for its torque converter and transmission products than its brakestands, includes all mounting hardware and wiring with the kit, which uses 6061-T6 aluminum in its construction.
I know what you are thinking – the TCI Universal Illuminated Burnout Kit is a little too "Fast and Furious" for most pickup truck owners. Ok, it's actually entirely "Fast and Furious" – it serves no other function than to provide a blue-tinged spotlight that shines on something you probably shouldn't be doing anyways. However, outside of its questionable street applications, the TCI kit could be a fun addition to a drag car or truck to elicit a few more "oohs" and "aahs" when staging at the local track. Priced at just under $200, the kit is an inexpensive add-on to any show vehicle or street machine.
SO, the question is, would you buy one? Would you take one if it were given to you?
Filed Under: Toyota Tundra Accessories
Comments (1)