ProComp 6″ Lift Kit For The Tundra
Jason Lancaster | Mar 24, 2008 | Comments 56
Our last featured vehicle had a pretty wicked lift kit on it – the Stage 2 ProComp 6″ Lift with MX6 shocks and coilovers. We haven't had a chance to witness an install yet, so we haven't bothered to review one. However, we have found a really nice break down of the process on ToyotaTruckWorld.com.
See the ProComp install process.
The big news – the install requires a lot of experience. You're going to need to cut one of the factory differential supports to get it to go, not to mention a lot of care and effort needs to be taken to get everything together. We've said this before about lift kits, but this time we really mean it – it's probably best to let a professional install the ProComp 6″ kit on your Tundra.
The ProComp 6″ lift kit isn't cheap – parts run about $2,500 (the stage 2 kit includes coilovers at that price – the stage 1 kit with spacers runs about $1,600). Install will run at least $500, and some installers may charge as much as $1500 (only that should include mounting and balancing a new set of wheels and tires). Speaking of wheels and tires, you're going to need to upgrade your tires if you want your truck to look halfway decent. Expect to spend another $200-$300 per tire. That brings the total cost of adding a 6″ ProComp lift to at least $3,000 for the Stage I, $4k for the Stage II (installed cost). Of course that will depend a lot on the installer you use, where you buy your parts, and tires you choose. That doesn't include the cost of upgrading wheels either – they can cost anywhere from a few hundred dollars and go up into the thousands. We're not trying to discourage anyone from buying a ProComp lift, we just want you to know what the costs really are. We've seen 6″ lift kits on other trucks, when combined with wheels and tires, cost as much as $8k.
Our suggestion for finding a good installer is always the same – talk to your local Toyota dealer and find out who they would recommend. You should also email some of your local 4×4 clubs and find out if they recommend a particular shop. Buying the parts is easy, but installing them is complex. It's OK to spend a lot on installation if the installer comes highly recommended. If someone messes this kit up…well, you get the idea.
The great thing about the ProComp kit – it allows you to put some big tires on. ProComp recommends tires sized 35″ by 12.5." Here's how that compares to a stock tire: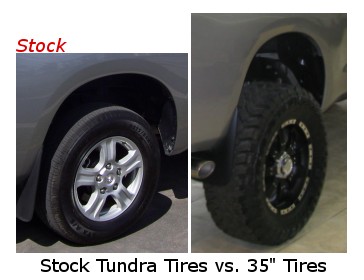 The angles are a little different, but if you compare the mudflap behind each tire, you'll see the difference is profound.
With the good – great stance, huge tires, lots of off-road performance – comes the bad. Expect your truck to get somewhere between 12-14mpg if you add this lift. The lift kit disrupts the airflow under the vehicle and negatively effects highway mileage, and the over-sized tires will also reduce your gas mileage because of rolling resistance. The lift will also make climbing in and out of your Tundra even harder – not to mention loading up the bed and hooking up a trailer. Finally, the raised center of gravity increases the risk of rolling your truck. Forget about driving at high speed around tight corners – this kit will slow you down in the curves quite a bit.
Bottom Line: If you're looking for a way to distinguish your truck, or if you're thinking about doing some serious off-roading, the ProComp lift is a great way to go. They're a trusted brand with a reputation for quality. But, for many, spending $4,000-$5,000 on a lift kit that will ruin the gas mileage, make loading more difficult, and increase roll-over risk doesn't make much sense. If you're going to step up to this kit, more power to you. Just make sure you understand the trade-offs.
Filed Under: Tundra Lift Kits
Comments (56)