Prius vs Corolla – Which Makes More Economic Sense?
Jason Lancaster | Jan 23, 2012 | Comments 13
A frequent commenter here on TundraHeadquarters.com (shout out to mk) posited an interesting thought: It makes more economic sense to buy a new Toyota Corolla than it does to buy a new Prius, because it would take years of driving and gas savings to recover the cost difference between the two.
Said another way, the $5500 price difference between the Prius and the Corolla buys a lot of gas. Right?
While I was completely inclined to agree with this idea, I decided it might be fun to run the numbers. Here's how I broke things down.
First, let's make a few assumptions:
We're financing whatever we buy with no money down
We're buying gas for $4 a gallon
We're actually going to get the EPA's "combined mileage" figure when we drive each vehicle
We're going to assume the vehicles are driven 15,000 miles a year
Next, we're going to try and compare two cars that are as apples-to-apples as possible. That means that the Corolla with the 5-speed manual is off the table. While this gives the Prius a bit of an advantage – the manual transmission Corolla gets slightly better gas mileage – the fact is that manual transmissions aren't nearly as popular as automatics.
In terms of fuel economy, the EPA says that a 2011 Prius gets 50 mpg (combined) and that a 2011 Corolla with an automatic gets 29 mpg (combined).
Next, here's how the features break down:
| | | |
| --- | --- | --- |
| Feature | Prius 2 | Corolla LE |
| LED tailights | X | – |
| Alloy Wheels | X | – |
| Front, Side, and Curtain Airbags? | X | X |
| Driver's Knee Airbag | X | – |
| Touch Trace Display | X | – |
| A/C, CD Player, Tilt, Cruise, Power Windows and Power Locks with keyless | X | X |
As you can see, a base model Prius Two has roughly the same level of luxury and refinement as a Corolla LE, assuming we don't add any options to either vehicle.
Last, let's look at price: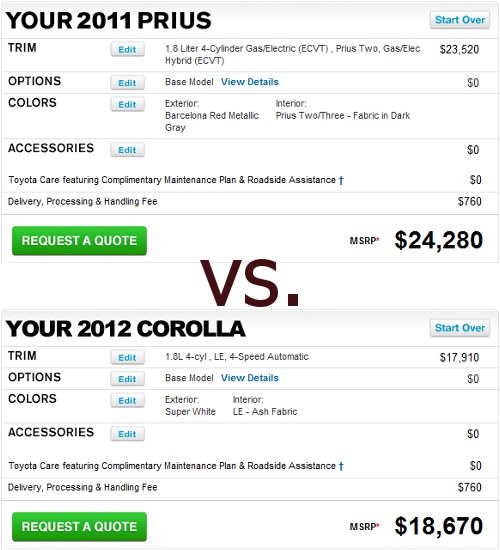 As you can see, a Prius Two is just about $5,500 more than a 2012 Corolla LE.
Finally, some math:
Our Prius needs 300 gallons of gas to drive 15,000 miles. At $4 per gallon, the annual fuel cost of our Prius is $1200.
Our Corolla needs 517.24 gallons of gas to drive 15,000 miles. At $4 per gallon, the annual fuel cost of our Corolla is $2,069.
Based on our assumptions, our Prius will save us $869 a year in gas. After 6.3 years, we'll earn back the cost premium of our Prius.
6.3 years to break even? Seems like a long time considering that most people keep their cars 4-5 years… and what about financing?
If we finance our $24,280 Prius over 5 years, Toyota Financial will give us 3.93% APR with excellent credit. That's a total finance charge for the Prius of $2,540.
If we finance our $18,670 Corolla over 5 years, Toyota will give us a special 2.9% APR, and our credit doesn't have to be perfect to get it. That's a total finance charge for the Corolla of $1,408.40.
The extra finance charges – about $1100 – add more than a year to our break even time line.
So, why buy a Prius?
We know that, economically speaking, it probably makes more sense to buy a Corolla instead of a Prius, as it will take years to "earn back" the additional cost of the Prius in fuel savings. However, that doesn't mean that there aren't some good reasons to buy a Prius:
It's (arguably) better for the environment and U.S. energy security because it burns less gas
It's cooler than a Corolla – at least in some circles
The Prius has more safety features
You're planning that gas prices will go up above our $4/gallon estimate (and stay there for a long time)
You plan to drive the Prius until the battery pack fails (about 150k miles, give or take)
Bottom Line: There's economic value in buying the Prius, but it takes a very long time to see it. If you're buying a Prius over a Corolla, you want to make sure you're doing it for the right reasons – it's not exactly going to save you money anytime soon.
Related Posts:
Filed Under: TundraHeadquarters.com
Comments (13)