"Ox-Tundra" Becomes Memorial Tribute to Jeff "Ox" Kangola
Benjamin | Jun 15, 2011 | Comments 4
No one ever sets out to build a project truck that ends up being a memorial to its owner. In the case of the West Coast Customs effort for Jeff "Ox" Kangola, however, it is hard to think of a more fitting tribute to one of the premier off-road riders of the past several years than the Toyota Tundra pickup that was put together for him by the talented craftsmen at the California garage.
Jeff Kangola passed away last month as the result of injuries sustained in a dirt bike accident. Prior to his passing, "Ox" Kangola's motocross accomplishments included a silver at the 2005 Winter X Games for Best Trick, the 2004 WFA Big Air Points Championship and a number of impressive finishes in SCORE Baja competition.
Ryan Friedlinghaus and his crew of mechanics, designers, body and paint men debuted the 2010 Toyota Tundra that they build for Kangola in March on the Inside West Coast Customs program that airs on Discovery's HD Theatre channel. Dubbed the "Ox-Tundra," the goal was to build a pickup that could incorporate some of the elements needed to survive the grueling Baja race environment that Kangola regularly conquered on his bike. At the same time, Friedlinghaus challenged his team to also produce a truck that could match the "Metal Mulisha" team style worn by Kangola, which made use of a number of dark and sinister elements in its branding and colors.
The result was a truck that looks perfectly at home with two dirt bikes sitting in the back and an endless stretch of desert stretching before it. Not only does the "Ox-Tundra" feature a bed extender from Bed X-Tender to help keep its load in place, but it also offers a custom roof-mounted cargo rack that can carry gas, tires and supplies, and which is completely removable for when the truck returns to civilian life. A winch sits on the Tundra's front bumper, which was also custom designed for the truck, and the vehicle additionally features enough candlepower in the form of off-road lighting to make sure that it doesn't run into any unexpected surprises far from civilization. The Toyota rides on over-sized General Grabber tires, which is fitting for an athlete who counted General Tire as one of his sponsors.
There are a number of other interesting touches that have been made to the Toyota Tundra that one would expect from a team that is as innovative as the one at West Coast Customs. In addition to its AMP PowerStep retractable running boards, the pickup's bed features a shower and the interior acts as a comfortable oasis in contrast to the harsh terrain that surrounds it thanks to unique leather upholstery, a host of multimedia entertainment options and even a satellite phone system. Topping off the "Ox-Tundra" is a black and gray camouflage vinyl wrap that fully matches the Metal Mulisha aesthetic.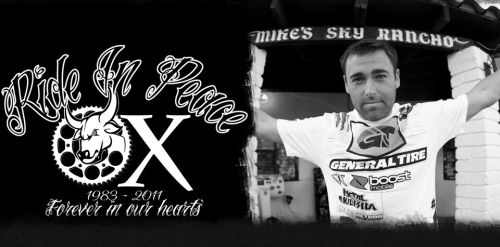 Kangola might not have gotten to enjoy his truck nearly as much as he should have, as he was taken from us far too early. He did, however, have the chance to see the truck in action shortly after it was built, and his reaction to the effort that had been made to provide him with the pickup of his dreams matched the same joy and intensity with which he approach motocross. Ox will be missed.
Filed Under: Featured Vehicles
Comments (4)