New Coil-Over Tundra Lift Kit From ToyTec
Jason Lancaster | Dec 12, 2008 | Comments 6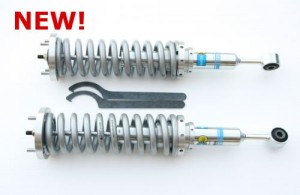 ToyTec lift kits recently announced a brand-new coil-over lift kit for the Tundra. Here are the highlights:
The kit fits the 2007-and-up Tundra, 2wd or 4wd models.
The kit includes Bilstein 5100 maintenance-free shocks.
The amount of lift is fully adjustable – anywhere from no lift to 3.5 inches.
Since this kit replaces the factory coil-over assembly, there's no need for a spring compressor. This is truly a bolt-on kit.
The ride and handling of the Tundra is greatly improved, especially off-road.
You can level out the lift by purchasing the rear-end lift blocks from ToyTec (not included).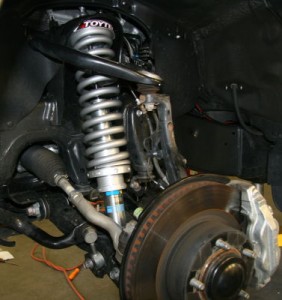 We have yet to review the kit first hand, but ToyTec tells us this kit has greatly improved the handling and ride of all of their test vehicles.
Filed Under: Toyota Tundra Accessories • Tundra Lift Kits
Comments (6)