New 09 Ram LAUNCHES With Cash On Hood
Jason Lancaster | Sep 24, 2008 | Comments 0
You know that the truck market is bad when Dodge has to offer $1000 cash back on the brand new 2009 Ram 1500 that JUST launched.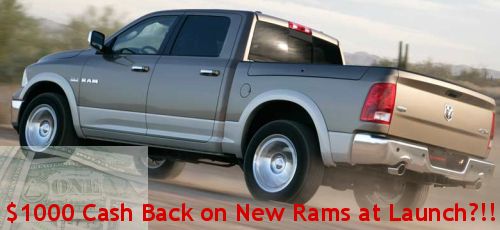 Only one word for this market – ugly. Really ugly. Really really ugly.
While Dodge will officially say they're offering cash back on the 2009 because customers need this cash to facilitate a trade-in, that's a smokescreen. An extra $1000 isn't going to bail anyone out of an upside-down trade. The truth is that Dodge knows their product has to compete with a brand new 2009 F150 and solid offerings from GM and Toyota. While early reviews of the 2009 Dodge Ram talk about the new truck's amazing ride (because they're using a coil-spring rear suspension), improved engine with variable valve timing, and improved fuel economy, the fact is this truck is still a Chrysler product.
Chrysler has a reputation for below-average quality (perhaps undeservedly so) and rumors of a pending bankruptcy certainly aren't helping sales. Not to mention that Chrysler/Dodge/Jeep dealers no longer have a lease program to speak of.
In other words, it's tough to be Dodge right now. As much as we like the Tundra, we hope that Dodge makes it through the next 18 months. Auto industry analysts say that car sales will recover in 2010 (or so), so Dodge should get back to profitability by then.
One more note about the new 09 Ram – when Nissan launches the new "Titan" next year (which will basically be a copy of a Dodge Ram), what will they change? What improvements/additions will they make? Anyone want to venture a guess?
Filed Under: Auto News
Comments (0)