Interviewing IPT – Part Two
Jason Lancaster | Aug 27, 2010 | Comments 1
This is the second part of a two-part interview of John Lombardo, founder and co-owner of Import Performance Transmissions.
Be sure to read part one if you haven't already.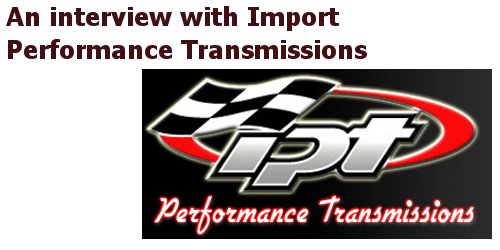 Question 6: How much wear-and-tear does towing put on a normal, un-modified automatic transmission? Can a transmission rebuild or valve body kit reduce this wear-and-tear? If so, how?
John: Towing is probably harder on the transmission than it is on any other part of the vehicle. The actual amount of wear and tear is going to depend on a lot of factors, but towing is always going to increase wear.
A valve body modification is going to quicken shifts, make shifts a more efficient transfer of power, and result in less slippage and less heat (especially at the clutches themselves). This is a durability improvement because the clutch lining stays cooler, reducing wear and heat build-up.


If you're having trouble visualizing, there's a nice animation of the transmission that starts 31 seconds into the video above.
A performance transmission rebuild includes a ton of durability improvements that range from metallurgical treatments and processes that increase the strength of the geartrain components and sprags, to the addition of discs in the clutch packs to greatly increase their holding capacity. The additional discs we add are made from a high performance material that not only has a higher coefficient of friction, but is also much more resistant to heat.
Of course, all of the valve body work is included in the full build as well.
Question 7: What transmission modifications would you recommend to a Tundra owner who tows on a daily basis?
John: In no particular order for towing I would recommend:
Putting the biggest external trans cooler that will fit easily on the vehicle (in conjunction with using the factory oil to antifreeze unit)
Using a good synthetic ATF
Getting the valve body work done
Question 8: Your website mentions some pretty dramatic performance improvements for your high-stall torque converters – anywhere from .5 seconds to 1 second in improved quarter mile times. Is there a trade-off in reliability with these units?
John: Actually, reliability is improved. In addition to configuring torque multiplication and stall speed to match the application, there are many durability improvements that we do at the same time.
Our converters include furnace braised or welded fins, an improved material converter lock-up clutch, and – in most cases – a better set of internal bearings. You end up with a much stronger unit than the stock piece.
Question 9: Just for fun – what's the fastest you've ever driven a 1/4 mile? My fastest is 12.73
seconds…pretty tame.
John: 8.87@150mph…still pretty tame but it was also a street legal, street driven vehicle.
Finally – the last question from part one of the interview…
Who makes the best transmission between GM, Ford, Dodge, and Toyota?
John: Out of those three I'm going to say Toyota.
Special thanks to John Lombardo of IPT for answering our questions. Anything we forgot to ask?
Filed Under: Toyota Tundra Accessories
Comments (1)