International Brotherhood of Tundra Owners Headquarters
Jason Lancaster | Jan 19, 2009 | Comments 10
Everyone knows there are a LOT of Toyota Tundra forums. TundraSolutions.com is the biggest and most famous, and TundraTalk.net is quickly becoming a favorite of many of our readers here at TundraHeadquarters.com.
Of course, TundraHeadquarters.com has a forum too called TundraNetwork.com. It's actually a combination of a forum and a social network, so you can upload photos, videos, post your favorite links, blog, and more.
However, none of these forums offer brotherhood – at least not in the title.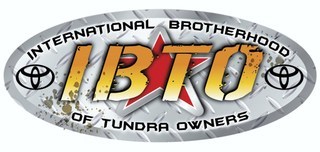 The newest Tundra forum – International Brotherhood of Tundra Owners Headquarters (no relationship to this site).
If you're active in forums, or if you're still searching for a forum that suits your personality, check out the International Brotherhood of Tundra Owners Headquarters. It's free to join, they've got an incredibly active and dedicated group of people running the site, and they're big fans of TundraHeadquarters.com so they MUST be alright
Here are links to some of the most popular threads on this forum, if you're looking to get a sense for what the Brotherhood is all about:
So anyways, check out the IBTOHQ.
Filed Under: Tundra News
Comments (10)