Ford's New F150 SFE Package Just Clever Marketing
Jason Lancaster | Sep 22, 2008 | Comments 12
Ford Motor Company recently announced an "SFE" – or "Superior Fuel Economy" – package for the upcoming 2009 F150. While Ford touts this package as evidence of their commitment to "unsurpassed fuel economy," we think this package is more of a marketing ploy than a true product for fuel misers. Here are the details: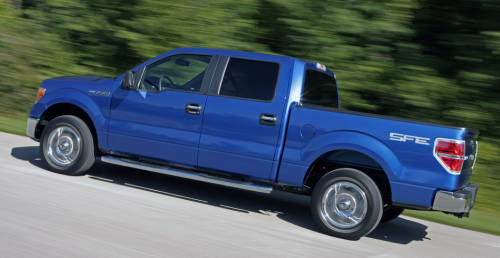 Ford's new 2009 F150 "SFE package" is more about marketing than any real changes over a standard F150.
The SFE package will be available in short bed (5.5′) F150 crew cab trucks. This is the traditional "family truck," so Ford is wise to offer the SFE moniker on this truck.
The SFE package will use the smaller F150 engine – the 4.6L 3V – for power. While the 3V 4.6 has 290 hp @ 4750 RPM and 317 lb-ft of torque @ 4000 RPM, this engine likely won't be a popular choice. Considering that most truck buyers opt for the biggest engine available (often a wise choice, btw), this is partial proof that the "SFE" package is a marketing ploy.
The SFE package will feature "low-rolling-resistance" tires – a.k.a. PASSENGER CAR TIRES on a truck. All truck manufacturers do this of course, but the SFE package is making it sound like it's a good thing to buy a new truck with a set of tires that you shouldn't take off-road.
The heart of the SFE fuel economy savings is Ford's new 6-speed automatic transmission (cough – Toyota had it first). Yet the new 6-speed auto is standard on the 4.6L 3V and 5.4L.
The SFE trucks have a tow rating of 7500 lbs. Certainly not a bad tow rating, but not even close to the 11,300 lbs Ford touts as their new max tow rating. What about making the SFE truck a fuel miser AND a tower?
Here are the numbers: Ford's SFE package gets 15mpg city and 21mpg hwy – very comparable to the Chevy Silverado / GMC Sierra 5.3L V8 which gets 15 and 20. Good numbers for sure, but nothing Earth shattering (despite the hype).
In other words, Ford is taking their standard 6-speed automatic, their small V8, a set of passenger car tires, and a sticker that says "SFE" and slapping them together to create an "unsurpassed fuel economy package."
Wow – how do they do it?
It's very nice to see Ford working hard on improving fuel economy, and they certainly deserve credit for striving in that direction. However, the "SFE package" is nothing more than a marketing ploy that takes all of Ford's standard truck improvements (like the new 6-speed auto and a more aerodynamic design) and calls them something special. While Ford certainly deserves credit for improving the fuel economy of all of the 2009 models, it's embarrassing to brag about a "package" that's little more than a set of standard features.
Filed Under: Auto News
Comments (12)