Falken Tire Toyota Tundra – Big Blue
Jason Lancaster | Dec 10, 2010 | Comments 12
This year's SEMA show was crawling with interesting items. We got some great video and interviews, did some quick demonstrations of a variety of parts, and of course we found a lot of cool Tundras.
However, this 2011 5.7 Tundra 4×4 from Falken Tire is the only Tundra we saw with a genuine solid front axle. Check it out: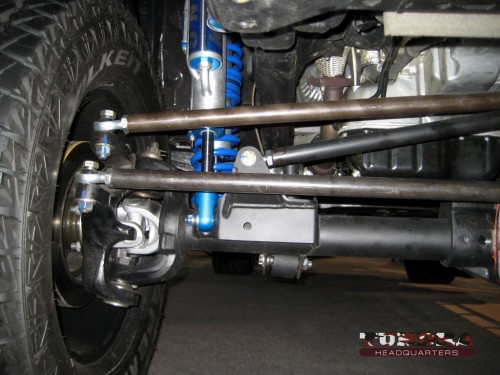 First, let's talk about the solid axle. Falken enlisted Off Road Evolution to fabricate a custom front suspension more similar to something you'd find on a heavily modified Jeep than anything you'll find on a regular old Tundra pickup.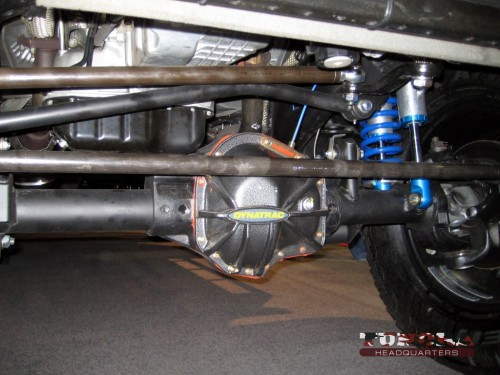 That's a Dynatrac 60 series axle up-front, connected to the Tundra with a set of King Off-Road Racing coilovers. I'm not even going to try and pretend I know what it took to assemble this suspension – the plan is to interview someone at Off Road Evolution as soon as possible.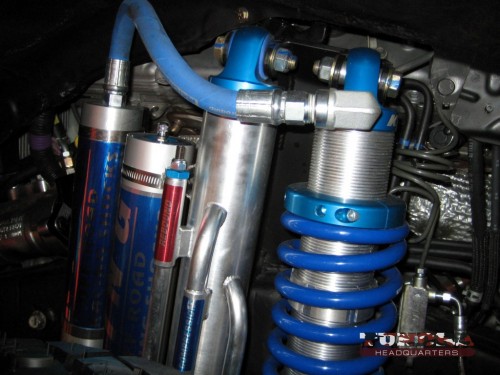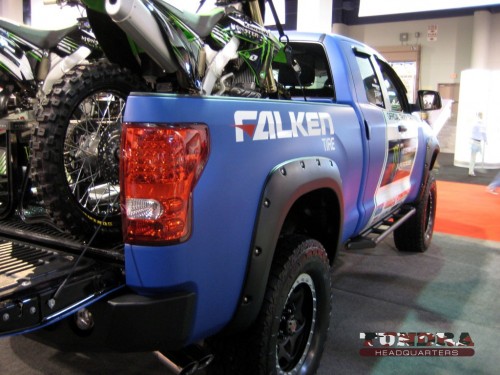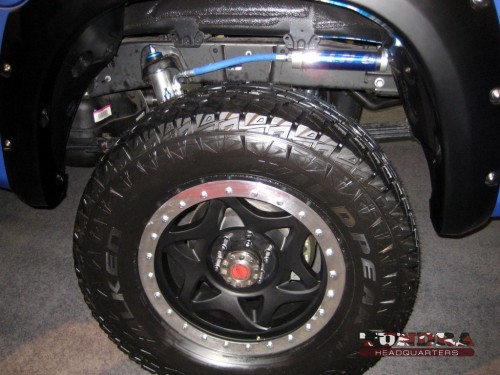 The new setup front and rear resulted in about 8-9 inches of lift, which made it easy to put a set of 355/60R20 Wildpeak Falken Tires (about 37″ in diameter) mounted on a set of Walker Evans Racing 20″ wheels underneath. Since Falken was cool enough to build this thing and kind enough to send us some info, please take a moment to check out their tires.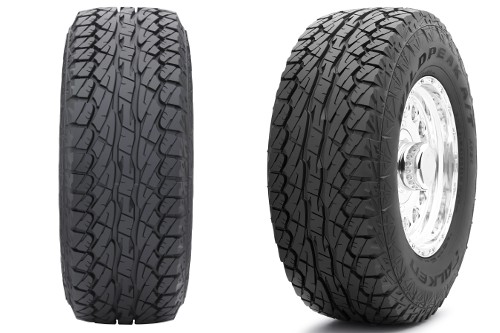 The truck's modifications don't stop with the suspension. Falken also upgraded the factory front and rear bumpers with powder-coated Expedition One steel bumpers.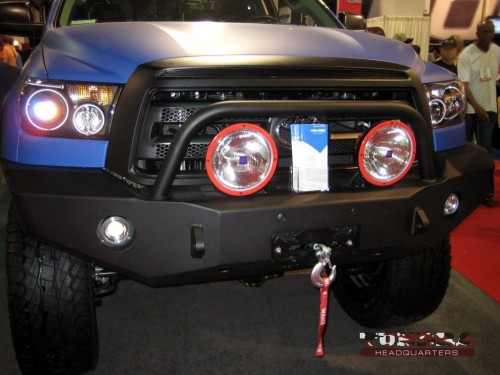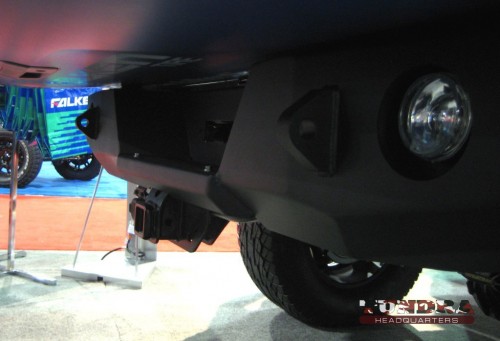 Expedition One also provided the step bars.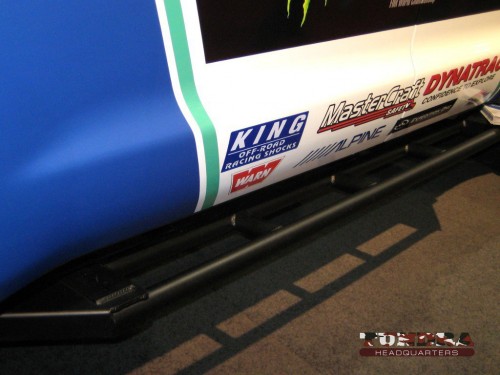 There's a Magnaflow exhaust and a K&N air intake on the already powerful Toyota 5.7L V8, and with the aggressive 37″ tires and substantial lift, it's hard to imagine this truck getting stuck. Still, just in case, there's a Warn M12000 winch up front.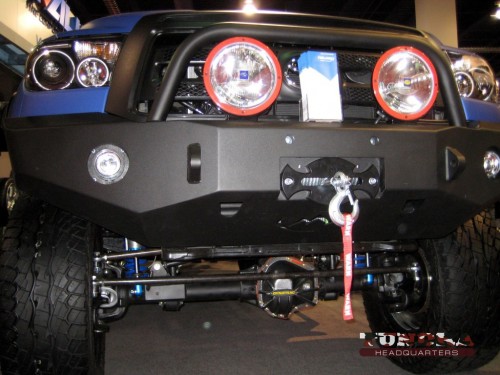 The blue color is not custom paint – it's a vinyl wrap. We saw quite a bit of vinyl at SEMA this year, and it seems to be catching on in a big way. Considering how well this blue works with the set of flat black Bushwacker fender flares and black and chrome Walker Evans wheels, it's easy to see why vinyl is gaining in popularity with customizers. Not to mention that it makes it easy for us to see all the truck's sponsor logos!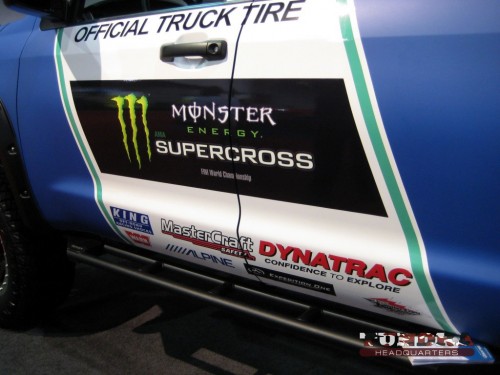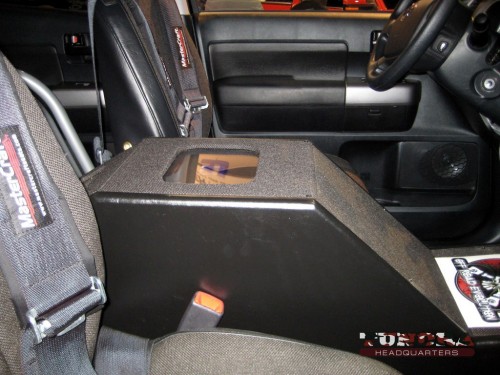 Inside, Falken installed a comprehensive custom sound system (Alpine Audio components installed by AutoFashion) that includes a rear DVD. Because this truck is meant for hardcore off-roading, it has a set of Mastercraft Baja RS racing seats with 6 point harnesses.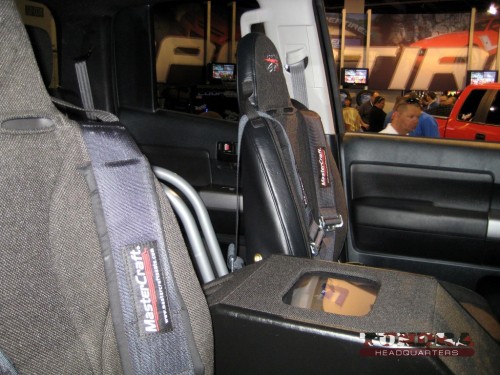 Frankly, there's a lot to this truck that we simply haven't shown or mentioned here – Falken deserves a lot of credit for going all out. Great job guys!
Search terms people used to find this page:
Off road evolution solid axle tundra
Toyota Tundra установка переднего моста
мост от хамер на тундру
Filed Under: Featured Vehicles
Comments (12)