New 'Ejection' Safety Rule – Saving Lives or Idiot-Proofing?
Jason Lancaster | Jan 24, 2011 | Comments 20
Lately, it seems as if NHTSA is on a regulatory binge. In addition to proposing mandatory back-up cameras, NHTSA has recently announced a new rule that is intended to prevent "ejections" during a rollover. While this new rule could save nearly 400 lives each year, some critics argue that rollover ejections are limited to un-belted passengers, and that the new mandate amounts to "idiot-proofing."
These critics  may be surprised to learn that, in many cases, someone using their seatbelt can be ejected during a rollover…but there's more to the story than that.
Rollover Accidents Kill
Approximately 10,000 people in the USA die every year in rollover accidents (Reuters), accounting for about one-third of all vehicle fatalities. By any measure, this is a tragedy.
Of those 10,000 deaths, nearly half are "ejected" from their vehicle. The causes of these ejections include:
Tremendous impact that causes people to slide-out of their seat belt during a crash
Vehicle structural failure
Seat belt failure
Not utilizing a seat belt
This animated reconstruction of a rollover accident (skip ahead to 1:35) shows how a person with their belt on can be ejected.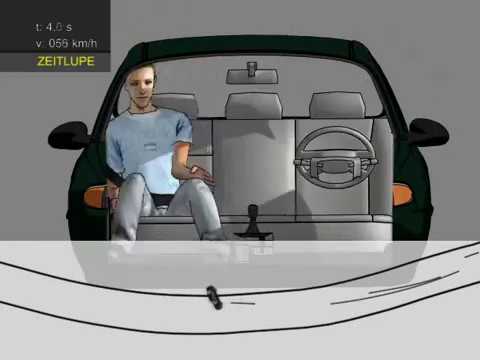 According to a Canadian forensic engineering company that studies and reconstructs car accidents:
Research has been published that shows it is possible to become free of the belt restraint during a rollover because of the design of the retractor and the single loop belt…in a rollover, the forces on the occupants are in multiple directions…As the forces change direction and magnitude, the belt retractor may lock and unlock each time, allowing more of the belt webbing to be spooled out. Once the belt is sufficiently slack, it no longer acts as a restraint to keep the occupant in the vehicle.
Between the reconstruction animation and the Canadian forensic engineers, it seems certain that many people die in rollover accidents even if they're wearing a seatbelt. But is this particular phenomenon the exception, or is it the rule?
Seat Belts, Unsurprisingly, Save Lives
According to George Washington University National Crash Analysis Center (NCAC, which is affiliated with NHTSA), about 80% of rollover fatalities or serious injuries occur when passengers are un-belted – which means wearing a seat belt is a great way to reduce a person's injury or fatality risk in a rollover. According to the NCAC, an un-belted person is about 400% more likely to be injured or die in a rollover.
Which brings us back to this new safety rule, which according to NHTSA would save the lives of about 4% of all rollover victims at a cost of about $31 per vehicle*.  While a 4% reduction in fatalities is no small improvement, mandating seat-belt use would reduce fatalities by a much larger margin (about 20% by my calculations).
Oh wait, seat belt use is mandated. It's just that a lot of people don't bother to use them.
*The cost estimate is suspect – $31 would probably cover the cost of using safety glass in side windows, but rollover air bags are much more expensive and probably the option most manufacturers will add.
Which brings us to the following question:
Does it make sense to add weight and cost to every new vehicle in order to prevent rollover fatalities, 80% of whom aren't using their seat belt?
What do you think?
Filed Under: Auto News
Comments (20)