Edmunds Likes Tundra Long Term
Jason Lancaster | Oct 01, 2008 | Comments 19
We're not sure why, but the reviewers at Consumer Reports, Car and Driver, and Edmunds.com don't seem to know very much about pickups. It's not because they don't like our favorite truck – the Tundra always does well enough – it's just that all the reviews have some variation of this complaint:
The truck is too big. Wah. It's hard for us to park. Boo-hoo. We don't like the fact that it rides and handles like a truck. Sniff sniff.
No kidding? You found the "truck-like qualities" of the truck you tested to be a little uncomfortable? Go figure.
They must not be truck people.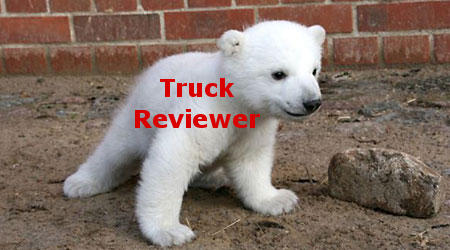 Anyone else think this cute widdle guy works for Edmunds.com?
Take this Edmunds.com Toyota Tundra long-term test update. The Tundra enjoyed quite a few compliments – such as:
"It earns the right to be called a real truck with its hard-working capability…"
"…we found the Toyota to be more than capable…I can assure you that the engine is nearly flawless. As smooth as Camry's V6 and never at a loss for power, the Tundra's 5.7-liter engine is a refined beast that has no equal in the segment."
"…the Tundra makes for an excellent truck whether you're towing a load or just tooling around town…"
"Six speeds ensure there is never a flat spot in the power delivery, providing a huge confidence boost when passing slow-moving trucks. Shifts are uncommonly smooth…"
And so on. Here's what they didn't like about the Tundra long term:
"…the Tundra has left behind its compact dimensions of the past and embraced life as a full-size American pickup…in doing so it alienates buyers seeking a truck for casual use."
"The Tundra's work-duty chassis and suspension also produce a rougher ride than some competitors"
"In tight quarters it takes considerable practice to master this truck…"
"Toyota has finally delivered what even the skeptics would agree is a real full-size truck. But it does so at the expense of the casual truck crowd."
Here's a question for Edmunds.com: Who, exactly, is the "casual truck crowd" and why would they consider buying a new Tundra in the first place? Doesn't the "casual truck buyer" buy a small truck like a Tacoma?
Here's one more: Do you know what the *hell* you're talking about over there?
The criticisms that Edmunds.com leveled at the Tundra are non-starters. If you're in the market for a Tundra, you're looking for a big-time pickup. Big-time pickup drivers don't need a truck that's "easy to park" or that "rides nice" – they need something that will get there work done.
Edmunds.com is like "baby bear" – the old Tundra was too soft, and the new Tundra is too firm, so maybe the baby Tundra (the Tacoma) would be just right.
Filed Under: Toyota Tundra Reviews and Comparisons
Comments (19)