Biggest Floor Mat Recall Ever
Jason Lancaster | Sep 30, 2009 | Comments 26
Toyota has announced that they intend to recall 3.8 million driver's side floor mats just as soon as they come up with a replacement for the existing mats. In the meantime, owners of the affected vehicles are advised to remove their driver's side mats. The reason? The accelerator can get stuck under the mat and the driver may not be able to slow the vehicle, potentially resulting in an accident.
This recall announcement is due in large part to a tragic accident that happened last month. There's a very accurate news story about the accident that's worth a look (see the YouTube clip after the break).
This was aired on Good Morning America on September 16th, 2009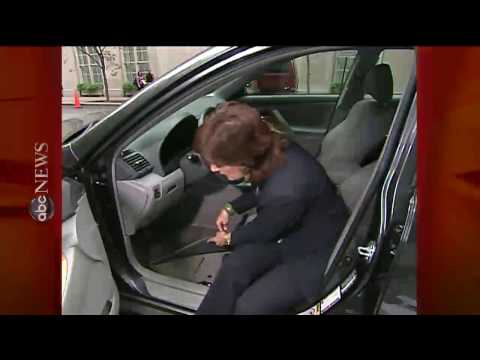 The clip has a factual error – at 1:02, the reporter says that the "issue is mats that aren't anchored down." She then shows one floor mat on top of another. While she is correct- this can be an unsafe condition – two driver's side floor mats is not a standard factory configuration.
First of all, all driver's side factory floor mats (from all manufacturers) have a basic fastening system. There's a metal eyelet at the back of the mat (the side closest to the driver). There's a hook embedded in the carpet that attaches itself to the eyelet. As long as the eyelet is attached to the hook, the mat can't slide out of position…unless the carpet fails or the mat somehow detaches from the hook.
The more common issue is that some people put an aftermarket mat on top of the factory carpeted mat. Floor mats are a popular after-market option for a lot of obvious reasons, but they're not supposed to be placed on top of the factory mat. Cheap after-market rubber floor mats can slide right over the accelerator, and that can lead to obvious problems.
Another issue at play here is the increasing popularity of push-button starters. Unlike good old-fashioned "keys" that can be yanked out of the ignition when the engine races, a lot of drivers don't know how to shut off their push-button engines.
Finally, there's the fact that the hook and loop system is pretty cheap. It's supposed to work, but obviously it doesn't sometimes. Like the news report says, this is an issue the affects all vehicles. Having said that, it's a pretty basic system. If we can't rely upon a hook and loop…we're in trouble.
Here's what you can do if your accelerator gets stuck:
Don't panic
Without losing control, lift your feet up, reach down, and grab the mat
Put your vehicle in neutral
Shut off the ignition (pull out the keys or hold down the 'start' button for three seconds)
Stomp on the brakes with a firm, steady push (don't pump)
Stay calm and don't panic
It will be interesting to see what Toyota comes up with for the recall. In the meantime, be safe – this can happen to any vehicle. Here are the vehicles affected:
Filed Under: Tundra Recalls
Comments (26)