BDS Suspension High Clearance Lift Kits for the Toyota Tundra
Benjamin | Jul 08, 2011 | Comments 8
BDS Suspension has put together two lift kits for the Toyota Tundra that are aimed at off-road enthusiasts who are looking for something a little more radical than the standard two or three-inch lift. BDS now offers 4.5-inch and 7-inch High Clearance (HC) lift kits that are advertised as being suitable for both daily driving and rock climbing.
What's In The Box
Both the BDS Suspension 4.5-inch and 7-inch HC lift kits are very complete, offering several boxes of components designed to transform the Tundra from its stock suspension setup. The kits come with front and rear crossmembers, new steering knuckles, a belly pan, brake relocation hardware, sway bay end links and end link spacers, new bump stops, strut extensions, strut spacers and lift blocks. The kit also comes with twin tube custom-valved hydraulic shocks for the rear (either BDS 5500 or 9500 series).
Can I Install It Myself?
On the BDS Suspension installation difficulty scale, these two HC kits rate a 3 out of 5. Each requires cutting and welding, according to the company's website, which suggests that most amateur mechanics might be comfortable having a professional install the High Clearance kit instead of tackling it themselves. Factor in approximately 8 hours of labor to get the job done.
Advantages of the BDS Suspension High Clearance Kit
The BDS Suspension HC kits were designed to preserve the independent front suspension setup of the Toyota Tundra while simultaneously offering exceptional ground clearance above and beyond what is typically provided by a more looks-oriented kit. BDS claims that the High Clearance kits are capable of maintaining the "natural movement" of the truck's front control arms, which in term preserves a civilized daily driving experience. The 4.5-inch lift kit can clear tires of up to 35-inches, while the 7-inch lift offers clearance for 37-inch tires.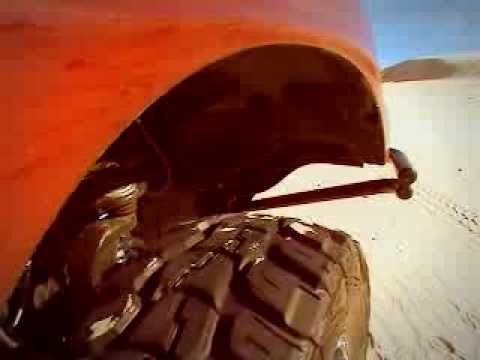 The High Clearance kits also take into account the need for associated mounting hardware and structural add-ons to provide enough breathing room underneath the truck while driving off-road, with each custom crossmember positioned as high as possible under the chassis. A protective belly pan links the front and rear crossmembers to provide additional undercarriage protection.
How Much Does It Cost?
The BDS Suspension High Clearance 4.5-inch lift kit starts at $1,952.28 before customization options are selected, while the 7-inch kit is priced at under $100 bucks more. These kits are definitely more expensive than some of the other lift options available to Tundra pickup owners, but what you are paying for is the solid design, high quality materials and smooth on-pavement driving experience that helps to make the BDS offerings unique.
Filed Under: Tundra Lift Kits
Comments (8)