ARB Sahara Bumper and Bull Bar for the Toyota Tundra
Jason Lancaster | Dec 17, 2008 | Comments 12
ARB announced a new "modular" Sahara bumper bull-bar combo unit for the 2007-and-up Toyota Tundra just after Thanksgiving, and we completely missed the announcement (until now). ARB, for anyone who doesn't know, is an Australian company with a (deserved) reputation for building top-quality off road gear. They're especially well-known for their solid steel winch bumpers that offer a great mounting surface for a winch, Hi-Lift jacking points, and enough steel to blast thru almost any obstacle.
The new Sahara bar offers a chrome hoop top bar that installs above the bumper. The idea is that the grill and hood (and the radiator underneath) aren't quite protected by the solid steel bumper, so adding the hoop bar is a way to protect some more of the truck's vitals. Of course the hoop bar looks pretty good, so that's another reason to consider it.
The Sahara Bar from ARB is now available on the 2007 and up Toyota Tundra. You can find them at 4WheelParts.com.
ARB emphasized the "modular" nature of the new Sahara bar – you can buy the bumper and the hoop bar separate. While this might seem like an added value to ARB, to us it seems like the two should be available separately anyways.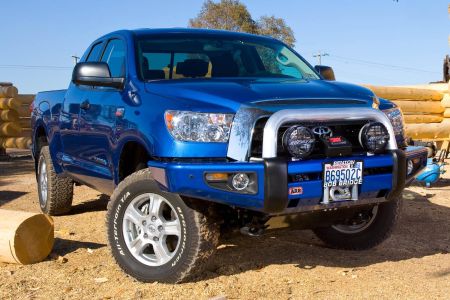 Solid steel bumpers that can mount a winch are necessary for work-truck applications, but they're quite useful off-road as well.
The hoop bar has a clever feature worth mentioning. Because the Tundra's grill is attached to the hood, when the hood is opened, there's not quite enough clearance for the grill to clear the hoop (see photos below). ARB solved this little problem by building a release latch into the hoop that allows the hoop to pivot forward as needed.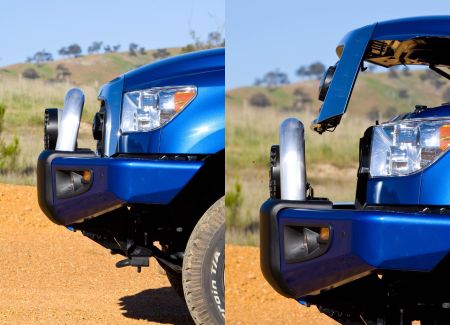 In order to accommodate the Tundra's grill-hood combo, the bull bar pivots out of the way when you engage a release. This allows the bull bar to maintain a high mounting angle, maximizing the protection it provides.
The bull bar and bumper combo is airbag compatible and it comes in a standard ARB grey finish that you can easily paint to match your Tundra. At more than $1300 for the bumper and $450 for the bar and mounting brackets, the ARB Sahara bar ain't cheap. Still, if you're looking to build a top-notch off-road machine, or if you need a solid steel bumper that can mount a mean winch for work duty, the ARB Sahara is a solid choice (pun intended).
Filed Under: Toyota Tundra Accessories
Comments (12)