All Entries Tagged With: "short tube"
We have been having an email conversation with Jamie Joyce, who manages Automotive R & D for Doug Thorley headers. In our previous post we got some interesting background information on the differences between Doug Thorley headers and a stock Toyota Tundra exhaust manifold. This time, we'll get a chance to hear some of Jamie's answers regarding the thorny issue of short tube headers versus long tube headers in the pickup truck world.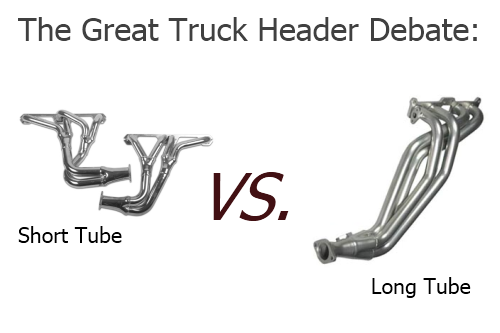 We started out by mentioning to Jamie that both the short and long tube header options offered by Doug Thorley appeared to offer a similar increase in low-end torque, with only a slight advantage going to the long tube units. This seemed to go against the conventional wisdom in the truck performance world that short tube headers can actually rob an engine of low rpm torque, especially in comparison to stock manifold designs.
Jamie told us that historically,