All Entries Tagged With: "low range"
A few months ago we reviewed a Tundra lift kit offered by Low Range Off-Road, and we gave it very high marks. The Low Range kit is made using rust-proof, light weight CNC machined aluminum (far superior to powder-coated steel kits offered by many others), the instructions are excellent (the best we've ever seen), and the design is well conceived. Unlike many kit manufacturers, Low Range took the extra steps (using metric bolts just like Toyota does, maching a very slight 3.5 degree taper on the rear blocks, etc.) to make this kit stand out.
In fact, we recommend the Low Range kit right alongside the Tundra lift kit from ToyTec. The only difference between the two kits is their basic design – ToyTec favors an in-coil spacer lift design, and Low Range favors an above-coil lift design.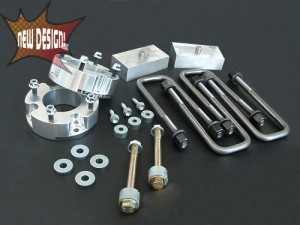 Low Range recently made a couple of updates to their lift kit for the 2007-and-up Tundra, further demonstrating their commitment to providing a top-notch kit. Here's what they've done: